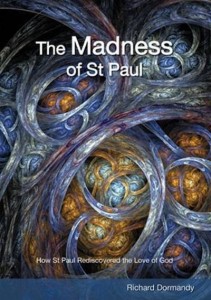 The Madness of St Paul is a study of 2 Corinthians like no other. Imagine a good friend called round and said (1) they despaired of life; (2) they were so anguished that they couldn't focus on the thing they loved doing most;  (3) they were fading away;  (4) they not worth more than a cheap disposable cup;  (5) they really wished to give up living on this earth.
You would be very worried!  You would want to sit them down, get them to talk, and try to work out how this situation had come about.  Yet most writers on Paul take every sentence of his letters as just another springboard for idealising him!
This study takes a refreshingly different approach.  It repeatedly asks, "What is happening for someone to be talking in these terms?  How did Paul arrive at this black spot in his ministry, what did he discover through it, and what enabled him to move on?
"I warmly commend this book to those who love the Bible; to those who long to find a way into the Bible; and, most of all, to those who despair of pulling themselves up to heaven by their own bootlaces." Rev. Chris MacKenna, Director, St Marylebone Healing & Counselling Centre,  Chaplain and Clinical Director, The Guild of Health)
"When we see Paul as he really is, we find not just a remote and exalted figure from whom we inevitably feel isolated, but 'a true kinsman from whom to receive encouragement'. I suggest you let this refreshing and liberating study lead you to the real Paul."  (Barry Vendy, Goodbookreviews.org.uk)
"I found the book to be full of fascinating ideas — exegetically stimulating and innovative, theologically constructive, and pastorally beneficial." (Robin Parry, Theological Scribbles, on an earlier, unpublished version)
"The title may seem odd, but this brief book, which focuses on the Second Epistle to the Corinthians, deals with St Paul's dark night of the soul It discusses the extraordinary discoveries made by Paul in his darkness, along with practical steps in a strategy for survival.  Here surely in many ways, are matters very relevant for us today." (The Irish Catholic)
Click on the audio player below to hear the author's book-launch introduction.
Available from Redemptorist Publications at £8.95, or Amazon.