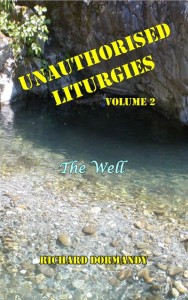 Do you ever look for fresh and creative prayers, meditations, even whole liturgies?
Unauthorised Liturgies could be for you.  Each of these three affordable volumes contains a full, imaginative communion service for use perhaps at a weekend away, retreat, or conference (each has been road tested at Continuing the Journey Conference). Or you can simply use the main eucharistic prayer (again, fully road tested).  Each volume also contains a full communion service for either Ash Wednesday, or Maundy Thursday or Ascension Day.  Plus several other prayers and blessings.
Superb value at around £3.50 each, these books are only available to download from Amazon. But remember, you do not need to own a Kindle to read them!  Simply download the Kindle App for your computer, tablet or phone and you have full access to the book.  You can copy, paste and adapt to your hearts' content!
"I loved the book. I found it richly engaging. It challenged my thinking and deepened my praying and I look forward to the later volumes. The songs were a real bonus."  (Rt Revd John Holbrook, Bishop of Brixworth)
"Steeped in scripture and liturgy (from a wide range of backgrounds) the words are beautifully crafted and deeply Christ centred. Richard invites us to use imagination, silence and carefully crafted words to enter more deeply into the presence of God and our dependence on the grace of Christ. His prayers and meditations reflect both on the spiritual dryness of modern life and the riches of God's love… His use of scripture to prompt prayers of intercession is both well done and a challenge to all who lead prayers to use similar imagination and creativity."  (Terry Hinks, author of the 'Praying with the Gospels' series.) 
Click on a title to access the download page: